I'm an Employer
How Can RSM People Help?
The people within your business are your greatest assets but hiring great people can be tough, and managing labour on a daily basis even tougher.
That's why it makes sense to leave it to the professionals. RSM People will help you recruit the right team, bring them on board keep them engaged, and run an efficient workforce.
When you outsource to the experts, you can get back to the job at hand. We'll maximise the opportunities and tackle any workforce challenges – freeing you from any disruption or downtime.
We'll keep your business on the front foot – ready to weather seasonal changes, stay ahead of new competition, and so you have the right workforce in place for today and tomorrow.
What to Look for in a Recruiter
It might sound simple, but we know choosing the right recruiter can be a difficult decision.
Find a recruiter that:
How RSM People is Different
We believe in delivering a service that is second to none, whilst we keeping our prices at a level accessible to all levels of business. Find Out More
Our Services
We provide people solutions to Queensland industry. We source professionals as well as technical and operational staff. We deal with all types of workforces: temporary, permanent or managed.
Our services span:
Permanent recruitment – on-the-ground through to technical and managerial positions.
Labour hire – temporary labour hire so you can expand and contract your workforce as needed.
HR services – skills assessment, training and on boarding covering safety, IR advice and payroll services.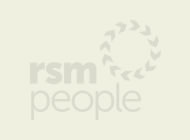 Peter Phillips
Form Direct
I have been dealing with RSM People since their office opened in Bundaberg and have always experienced great service and a commitment to satisfy our needs